CORPORATE GIFT BOX MY ORIGINAL BOX - COCOONING BOX #B1 COLLECTION
The ideal box for a relaxing break in a cocooning atmosphere ! Offer this corporate gift box to your employees, customers and partners.Composed of 4 sweet products of which one fleece blanketperfect for warming up and enjoying your infusion of the 2 marmots "winter chill (included in your box) in a nice mug signed My Original Box with the sweet smell of bergamot and lemongrass thanks to a candle with essential oil, 100% natural.
So recharge your batteries and relax for a break with the Cocooning Box!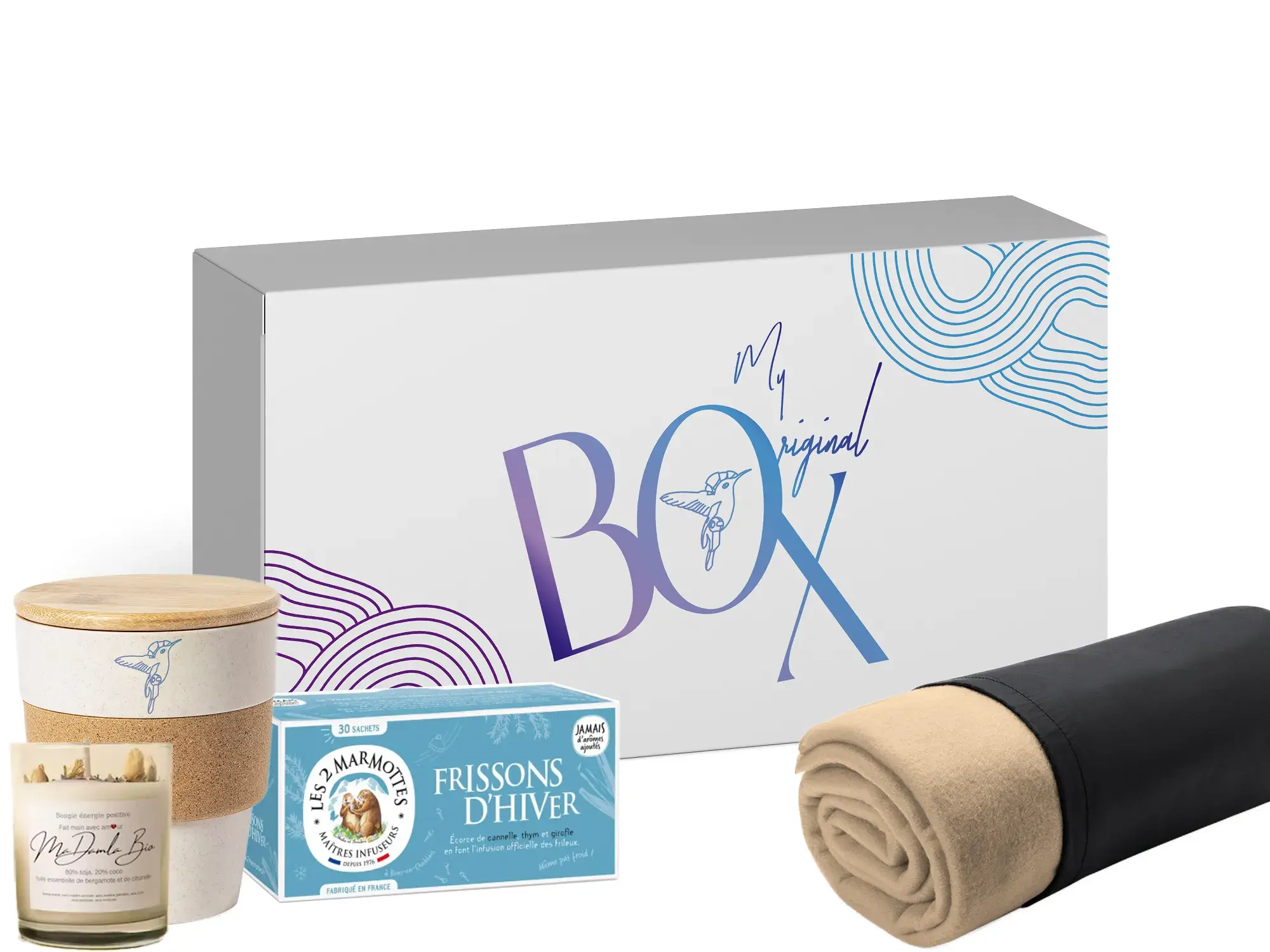 PRODUCT COMPOSITION MY ORIGINAL BOX - COCOONING BOX #B1 COLLECTION
My Original Box has taken care to select for you natural and quality products in this gift box :
A fleece blanket in a high quality polyester cover with a weight of 180g/m2, cord closure and dimensions 120 x 150cm.
Box of 30 bags infusion with cinnamon bark and thyme - the 2 Marmots
Cinnamon bark, thyme and cloves make it the official infusion for people with cold feet.
Not even cold! Its spicy notes of cinnamon and clove enhanced by thyme essences warm the body and mind.
Ingredients: cinnamon bark 31%, thyme 31%, lemon bark, eucalyptus, clove 8%.
A Positive Energy Candle
80% natural soy wax, 20% organic coconut oil, organic bergamot essential oil, organic citronella and its cotton wick.
100 % natural and biodegradable, without synthetic fragrances, dyes, paraffin, paraben, pesticides and GMOs.
Made in France in our workshop in Villefranche sur Saône.
Capacity : 28cl
A PP/Bamboo/Cork Nature glass
Made of veined PP, with natural cork outer band and bamboo lid. With Food Grade certification, ensuring safety when food comes into contact with the material used to make the product. Presented in an attractive eco-design box.
PP/ Bamboo/ Natural Cork - 350 ml