MY ORIGINAL GREEDY BOX #M10
A box exclusively for gourmets! Offer this corporate gift box to your employees, customers and partners.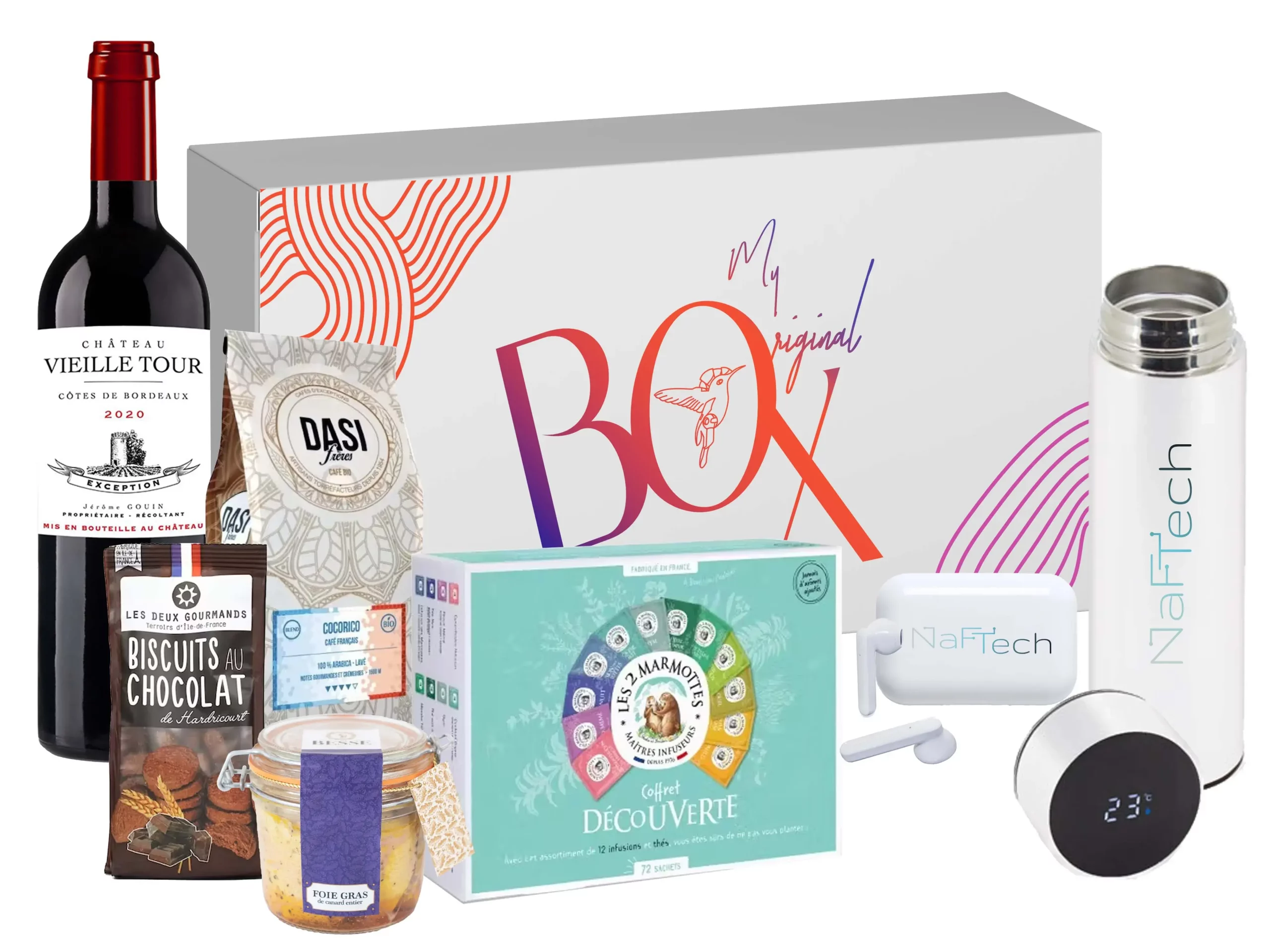 COMPOSITION OF THE BOX MY ORIGINAL GREEDY BOX #M10
My Original Box has taken care to select for you qualitative products in this gift box exclusive :
- Bottle of wine Château Vieille Tour, Cuvée Execption, Côtes de Bordeaux AOP - 2020 Red
Château Vieille Tour is a family property of 15 hectares, located in the Côtes de Bordeaux region, on the right bank of the Garonne. The vineyard, located in the middle of hilly landscapes, is composed of hillsides ideally facing south, overlooking the Garonne valley.
Awards & medals: Concours de Bordeaux Vins d'Aquitaine 2022 : Gold Medal / Concours international Gilbert et Gaillard 2022 : Gold Medal / Le guide Hachette des vins 2023 : 2 star(s)
Elaboration: Integrated cultivation, Fermentation in thermo-regulated stainless steel tanks, Classic vinification, Cold pre-fermentation maceration, Clayey-limestone soils, Clayey-gravelly soils
Grape varieties: 90% Merlot, 5% Cabernet Franc, 5% Cabernet Sauvignon
- Whole duck foie gras 335g - Besse
Put in the fridge the day before and take out 1 hour before eating.
Net weight: 335g
Ingredients: Duck foie gras, salt, pepper
Shelf life: 4 years from date of manufacture
- Cocorico Organic Coffee 250G Ground - DASI frères
French blend 100% Arabica Organic, 250G Ground. An organic creation that is both creamy and gourmet to be enjoyed with a delicious croissant! "So Frenchy!
Cocorico" ground coffee is a coffee inspired by our beautiful France, this blend of coffees created in our roasting workshop, is composed of organically grown beans from Central America and Asia. This blend reveals in the cup aromas of great finesse, with a creamy texture and an unusual character. A typically French explosion of flavour in the mouth! To be enjoyed with a croissant if you like!
Net weight: 250g
Ingredients: Coffee
Best before: 24 months
- Discovery box of teas and infusions - Les 2 Marmottes
Assortment of 11 infusions and 1 tea. All the know-how of our master brewers in one box! For all those who want to switch to 100% herbal mode, with no added flavours.
With this assortment of 11 herbal teas and 1 tea, you're sure not to mess up! Our master brewers have mixed great classics and home recipes to surprise your palate! Nothing but plants and no added flavours. The perfect gift to give, or to give to yourself! 72 bags (12 recipes x 6 bags) without string, glue or staples
Net Weight: 115 g
Ingredients:
- CYNORRHODON HIBISCUS (6 sachets) - Consume 1 cup per day to obtain the anti-fatigue effect*. Ingredients: rosehip 60%, hibiscus flower 40%. Origin Egypt / Bulgaria. Hibiscus helps in case of fatigue.
- PEACE MÉMÉ (6 sachets) - Ingredients: blackcurrant leaf 46%, lavender 36%, burdock root, cherry stem 5%. Origin France / Non EU.
- NIGHT FAIRY (6 sachets) - Ingredients: fennel seed 30%, scented verbena 25%, orange petal 15%, orange leaf, cinnamon bark, chamomile matricaire, rose petal. Origin France / Non EU.
- MARMOT INFUSION (6 tea bags) - Ingredients: linden 20%, scented verbena 19%, peppermint, hibiscus flower, rosehip, chamomile matricaria, orange petal 8%. EU / Non EU origin.
- COCKTAIL DIGEST (6 sachets) - Consume 3 cups per day to obtain the digestion effect*, and during 15 days maximum within the framework of a cure. Ingredients : green anise seed 60%, fennel seed 15%, sweet mint, sage 5%, rosemary. EU / Non EU origin. Green anise helps to support digestion. Not intended for people with a hypersensitivity to umbellifers.
THYME (6 teabags) - Consume 2 cups per day to obtain the de-cluttering effect*. Ingredient : thyme 100%. EU origin. Thyme is beneficial for the respiratory tract and the throat. Not intended for people who are hypersensitive to plants of the Lamiaceae family.
- GREEN TEA WITH MINT (6 bags) - Ingredients: green tea** 50%, sweet and peppermint** 50%. Origin France / Non EU. **100% of ingredients from organic farming. FR-BIO-15
- MINT LINDEN VERBENA (6 sachets) - Ingredients: fragrant verbena 35%, lime 35%, sweet and peppermint 30%. EU / Non EU origin.
- DETOX AND YOU (6 sachets) - As a detox*, use 3 cups per day for a maximum of 15 days. Ingredients: turmeric 35%, rosemary 25%, lemongrass 20%, cinnamon bark, lemon bark. Non EU origin. Turmeric supports liver and gall bladder function. Not intended for people with biliary tract diseases.
- FENNEL (6 sachets) - Consume 3 cups per day to obtain the digestion effect*. Ingredient : fennel seed 100%. Origin : France. Fennel contributes to digestion. Not intended for people hypersensitive to umbellifers.
- MENTHE RÉGLISSE (6 sachets) - Ingredients: sweet and peppermint** 80%, liquorice** 20%. Origin France / Non EU. **100% of ingredients from organic farming. FR-BIO-15. This product contains liquorice. People with high blood pressure should avoid excessive consumption.
- CAMOMILE - Drink 3 cups a day to obtain the relaxing effect*. Ingredient : chamomile matricaria 100%. Origin France / Egypt. Chamomile helps to maintain a good sleep. Not intended for people with hypersensitivity to the asteraceae family.
- Chocolate biscuits - Sachet 150g - Les Deux Gourmands
Our generous Hardricourt chocolate biscuits are a gustatory discovery, with a unique cocoa taste, ideal for gourmet breaks and for chocolate lovers! Our producer, which is none other than Cacao Barry, is located in the commune of Hardricourt in the Yvelines. We use "OCOA 70%" cocoa in our biscuits, a unique dark chocolate with a good cocoa taste and a touch of acidity. Our workshop is located in Crespières, in the Yvelines.
Our biscuits are guaranteed free of additives, colourings and preservatives.
Dimensions: 19 x 9 x 5 cm
Net weight: 150 g
Ingredients: Wheat flour from Moulins de Brasseuil, OCOA d'Hardricourt 22% chocolate (cocoa paste, sugar, emulsifier: soya lecithin, natural vanilla flavouring), fresh butter from Laiterie d'Isigny, Nangis sugar, free range eggs from Gambais, salt, baking powder (wheat starch, sodium bicarbonate, potassium bitartrate)
Best before date: 8 months
- Double layer stainless steel thermos - Naftech
Naftech, a recent brand based on digital and new technology, offers you this double layer thermos in stainless steel. With its "LED touch" function with integrated thermometer, you will be able to know the temperature of your drink at any time.
Capacity: 450 ml. Includes batteries
Dimensions: 6.40 X 22.80 X 0.00
- Naftech white bluetooth headphones
Comfort and lightness in the palm of your hand. With the Holsen Bluetooth headphones you can listen to music and have phone conversations.
Its charging base has a 400 mAh battery and a magnetized system that prevents your headphones from falling out and getting lost.
100 hours standby time. 35 mAh headset battery. Approx. 4 hours talk time
Includes charging cable and presentation box.