MY ORIGINAL GREEDY BOX #M4
A box exclusively for gourmets! Offer this corporate gift box to your employees, customers and partners.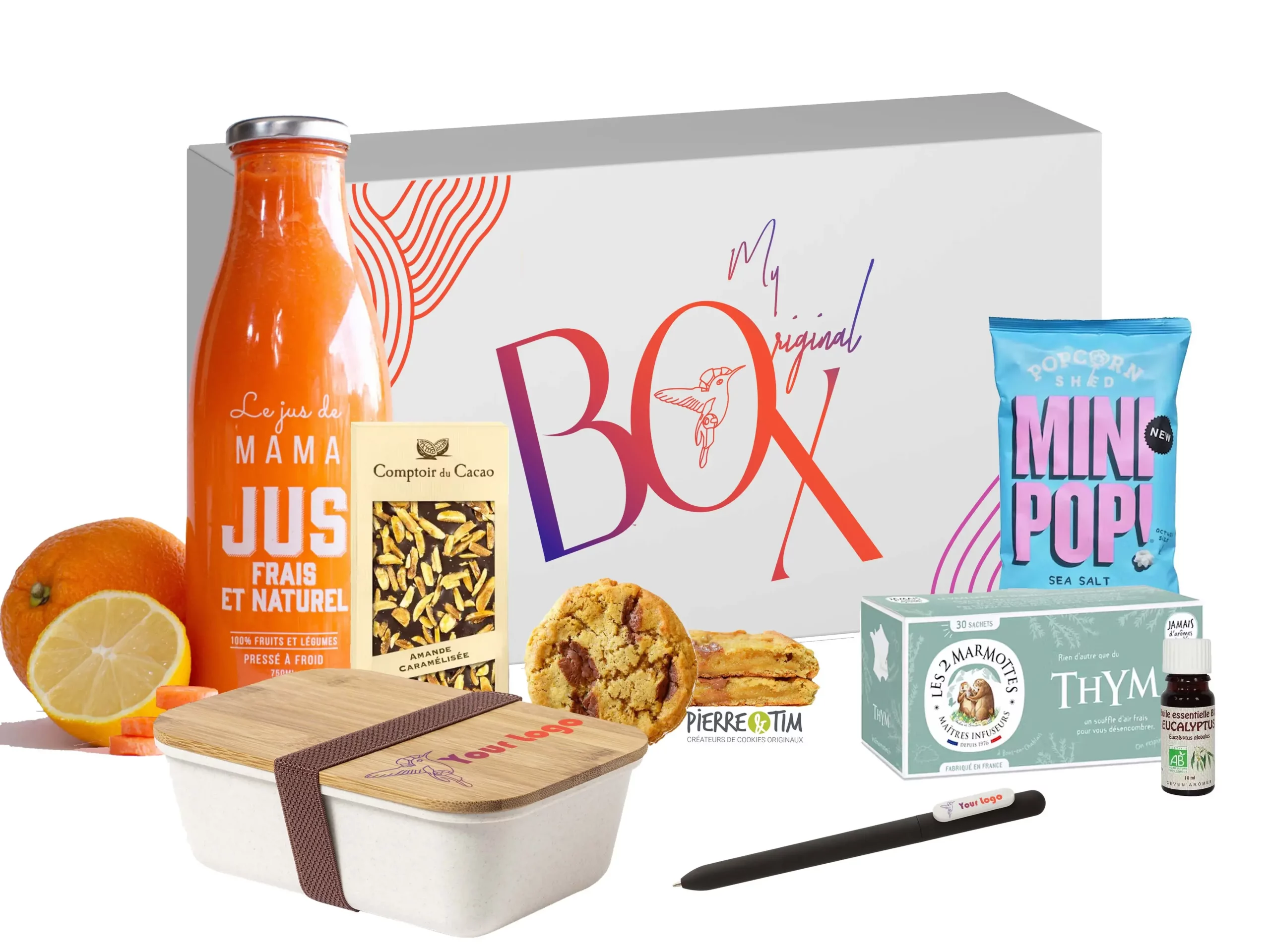 COMPOSITION OF THE BOX MY ORIGINAL GREEDY BOX #M4
My Original Box has taken care to select for you qualitative products in this gift box exclusive :
- Bottle of orange-carrot-apple-lemon-pineapple juice - Le Jus de Mama
A vitamin-rich juice concocted with love, rich in fibre and vitamins, to fill up with energy and good humour! It is a sweet cocktail combining orange, carrot and apple, with a touch of pineapple and lemon.
Ingredients : Organic apple juice 31%, organic orange juice 29%, organic carrot juice 23%, organic pineapple juice 13%, organic lemon juice 4%
Dimensions: 6.5cm (d) x 13cm (h)
Net weight: 3kg
Capacity : 25cl
Best before date: 24 months
- Caramel and salted butter bagged cookie - Pierre & Tim
Normandy in the spotlight! A very tasty cookie containing pieces of Isigny-sur-Mer caramel, the real and unique one!
Net weight: 60 g
Ingredients : Wheat flour, organic brown sugar, soft butter, whole eggs, caramel chips with salted butter and Guérande flower of salt 8% (sugar, glucose syrup, fresh cream from Normandy, semi-salted butter (4.1%), skimmed milk powder, Guérande flower of salt (1.6%)), caramel milk chocolate (min 31.7%) 4% (sugar, cocoa butter, whole milk powder, cocoa mass, skimmed milk powder, caramelised sugar, emulsifier : soya lecithin, flavouring, spices, natural vanilla flavouring), vergeoise blonde, white sugar, salt, raising agent, sodium bicarbonate. May contain traces of nuts.
Shelf life: 30 days
- Box Infusion and herbal tea 100% thyme for better breathing - Les 2 Marmottes
Nothing but THYME, a breath of fresh air to clear your mind. We breathe... The true taste of plants Our unique recipe is made up of not one but several thyme essences. Our master infusers work the whole thyme leaf so that it expresses all its aromatic power once infused. Tasting, selecting, checking, cutting, sifting, blending... Infusion is an art.
Among its many virtues, thyme is good for the throat! Drink 2 cups a day to obtain the de-clogging effect. First thing in the morning, thyme... breathe out. And all this without caffeine, naturally!
Ingredient: thyme Thymus vulgaris / zygis 100%. EU origin.
Net weight: 35 g - Box of 30 bags
- Sea salt popcorn - Shed
Every party is ten times better when there's popcorn. That's what we think at the Shed! That's why we've created this savoury, salty, sea food pack, perfect for any party! POP POP Hooray!
Dimensions: 5 x 14 x 23
Net weight: 0,02
Ingredients: Popcorn, rapeseed oil, sea salt.
- Dark Caramelized Almond Bar 90g - Comptoir du Cacao
Our 72% dark chocolate has a strong roasted cocoa taste with an intense bitterness. The cocoa beans of the Forastero variety come mainly from West Africa. This gourmet bar also contains caramelised almonds (12% minimum). Cruelty Free & Made in France
Dimensions: 8cm (W) x 19 (L) x 1.2 (H)
Net weight: 90g
Ingredients: Dark chocolates pure cocoa butter (minimum cocoa content 72%). Cocoa mass, sugar, cocoa butter, almond.
Shelf life: 12 months
- Eucalyptus 10ml Organic Essential Oil- Ceven aromas
Organic eucalyptus essential oil, expectorant and antiviral. From organic farming, certified by Ecocert FR-BIO-01
Chemotypes: Cineole, pinene, pinocarveol.
Essential properties: Anti catarrhal and expectorant; antiviral
Other actions: Anti-infectious, antibacterial; anti-inflammatory; positivizing. A few drops in the washing water perfume and disinfect.
- SDI01R Soft Touch customizable pen
The SDI01R pen seems to be a completely innovative pen on the market. What's unique about it?
The unique and innovative part of this pen is the "open/close" mechanism. Slide the clip along the barrel and you will hear a click to turn it on/off.
This is a unique plastic pen that has a sliding clip along the barrel to open/close it and feels great in your hands thanks to its smooth design.
Plastic pen with soft-touch coating and glossy white clip.
Stylus mechanism: push button.
The body of the pen can be removed, the shaft is easy to replace.
Biros with blue ink.
- Customizable lunch box
1l lunch box made of resistant PP with BISPHENOL A free grain, with bamboo lid. Elastic safety tape on the lid and Food Grade certification, guaranteeing safety when food comes into contact with the material used to manufacture the product.
Capacity: 1 L
Material: PP/ Bamboo