CORPORATE GIFT BOX MY ORIGINAL GREEDY BOX #M5
A box exclusively for gourmets! Offer this corporate gift box to your employees, customers and partners.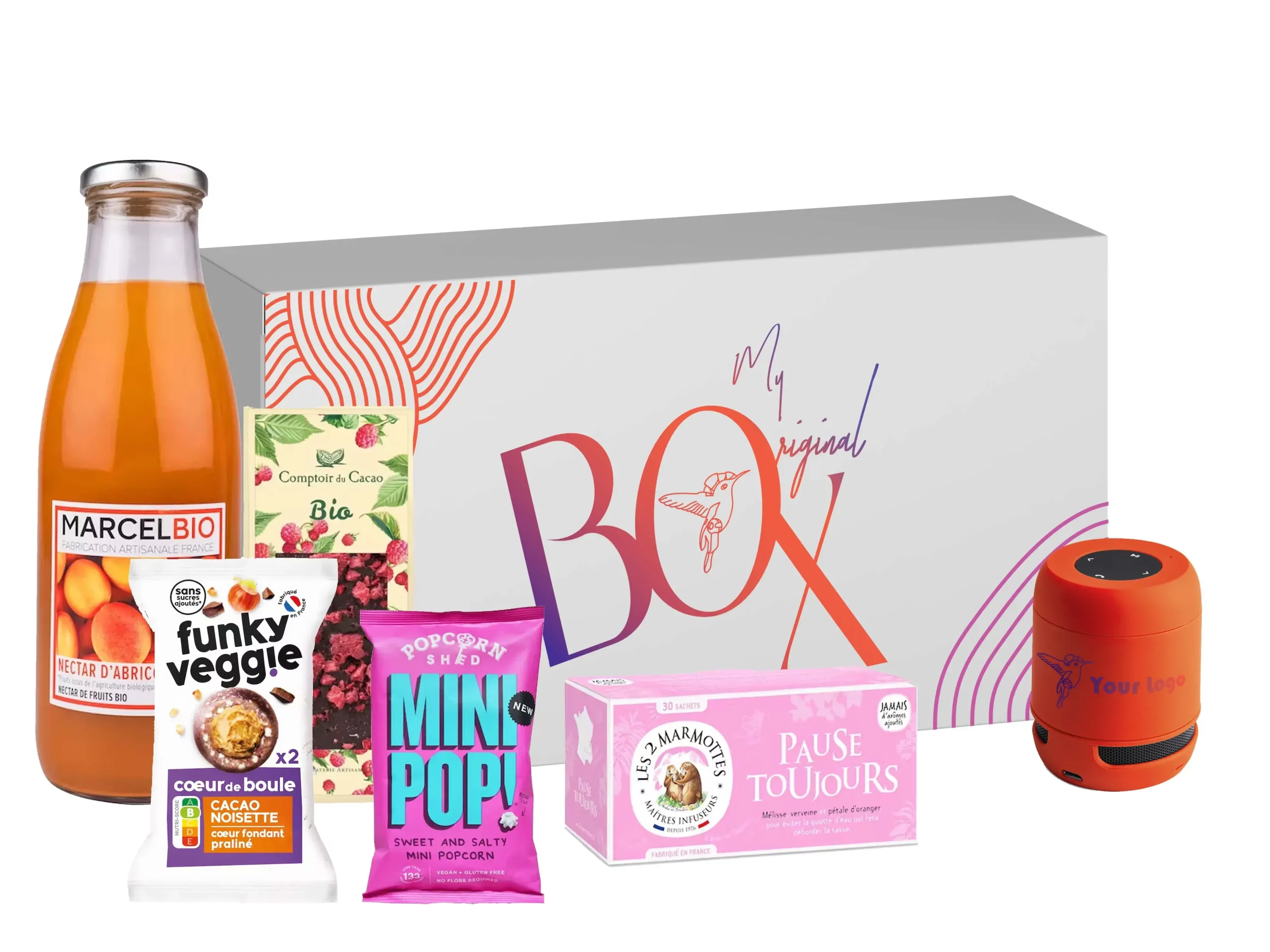 COMPOSITION OF THE BOX MY ORIGINAL GREEDY BOX #M5
My Original Box has taken care to select for you qualitative products in this beautiful gift box :
- Apricot Nectar Bio 75cl - Marcel Bio
Marcel Bio juices are concocted in a traditional way. Marcel Bio's fruit is organically grown in the south of France, thus contributing to the development of the local economy, through our network of partner farmers who are paid a fair price.
Dimensions: 75mm (d) x 232mm (h)
Net weight: 1,09 kg
Capacity: 75cl
Ingredients: Apricot puree* (>50%), water, sugar*. *Ingredients from organic farming
CSD: 24
MDD: 8
- Cocoa Hazelnut Praline Heart Ball - Funky Veggie
Discover the Funky Veggie Heart Ball, a natural, tasty and funky 100% snack!
Go for the Cocoa Hazelnut Praline Heart version: bite into this chocolate ball with the sweetness of hazelnuts, and discover a delicious and creamy almond and hazelnut praline heart. Its natural 100% composition makes it a snack rich in vegetable proteins and fibres, and satiating for only 100kcal per ball. Naturally gluten free, no refined sugar, no colouring, no preservatives, no lactose, no additives. In short, with NOTHING weird in it! And vegan.
Dimensions: 12cm (h) x 6cm (w) x 3cm (d)
Net weight: 36g
Ingredients: Dates* (54.5%), wholemeal almond puree*, hazelnuts* (16.5%), cocoa powder* (4%), hazelnut puree* (2.9%), hazelnut powder* (2.6%), cocoa mass* (2%), salt.
* ingredients from organic farming.
- Box Relaxing infusion lemon balm, verbena & orange blossom : always a break - Les 2 Marmottes
Lemon balm, verbena and orange petal infusion. To avoid the drop of water that will make the cup overflow. To enjoy the real taste of plants.
When a break is needed, our master infusers activate the "Marmotherapy": a good dose of lemon balm and verbena for their sweet, lemony fragrance, a hint of orange blossom for comfort... there's plenty to take it easy!
A "half-leaf, half-flower" bouquet for relaxation, enchanted taste buds and a serene mind.... And all this without caffeine, naturally!
Ingredients: lemon balm leaf 40%, scented verbena 20%, orange blossom 15%, lemongrass, lavender, orange leaf. Origin France / Non EU.
Net weight: 35 g - Box of 30 bags
- Sweet & savoury popcorn - Shed
Every party is ten times better when there's popcorn. That's what we think at the Shed! That's why we've created this sweet & savoury gourmet pack, perfect for any party! POP POP Hooray!
Dimensions: 5 x 14 x 23
Net weight: 0,028
Ingredients: Popcorn, sugar, rapeseed oil, sea salt.
- Organic Raspberry Milk Bar - 90g - Comptoir du Cacao
Product from organic farming certified by Ecocert FR-BIO-01.
Organic milk chocolate 39% with dried raspberries (12 % minimum) without lecithin and cane sugar. The organic cocoa beans are of the Forastero and Trinitario varieties and come from fair trade in Santo Domingo, Peru and Tanzania. We are members of the Cocoa Horizon Foundation, whose chocolates of various origins are made from raw materials from socially and environmentally responsible production subsidiaries.
Through this programme, we are contributing to a sustainable future.
Dimensions: 8cm (W) x 19 (L) x 1.2 (H)
Net weight: 90g
Ingredients: Pure cocoa butter milk chocolate* (minimum cocoa content: 39%). Cane sugar*, cocoa butter*, dried raspberry*.
*Ingredients from organic farming.
Shelf life: 12 months
- Customisable speaker system
Compact bluetooth speaker. Casual design and soft touch, available in fun colours. Bluetooth 3.0 connection. 3W power output, with hands-free function, mini SD card input for up to 32GB and auxiliary line input via 3.5mm jack. Compatible with iOS and Android. Includes mini USB charging cable, 3.5mm auxiliary jack cable. Comes in an individual box.
Bluetooth connection. Sound power 3W. USB rechargeable