MY ORIGINAL BOX - WORKING BOX #E1 Collection
The box made for your office. Offer this Working Box to your employees, clients, partners.
Box with 5 products for a tidy office, including one tactile biros and a notepad to keep track of all your important appointments, a wireless optical mouse and its carpet to maximise space and a glass bottleThis is the perfect way to hydrate while staying focused.
Let's get to work!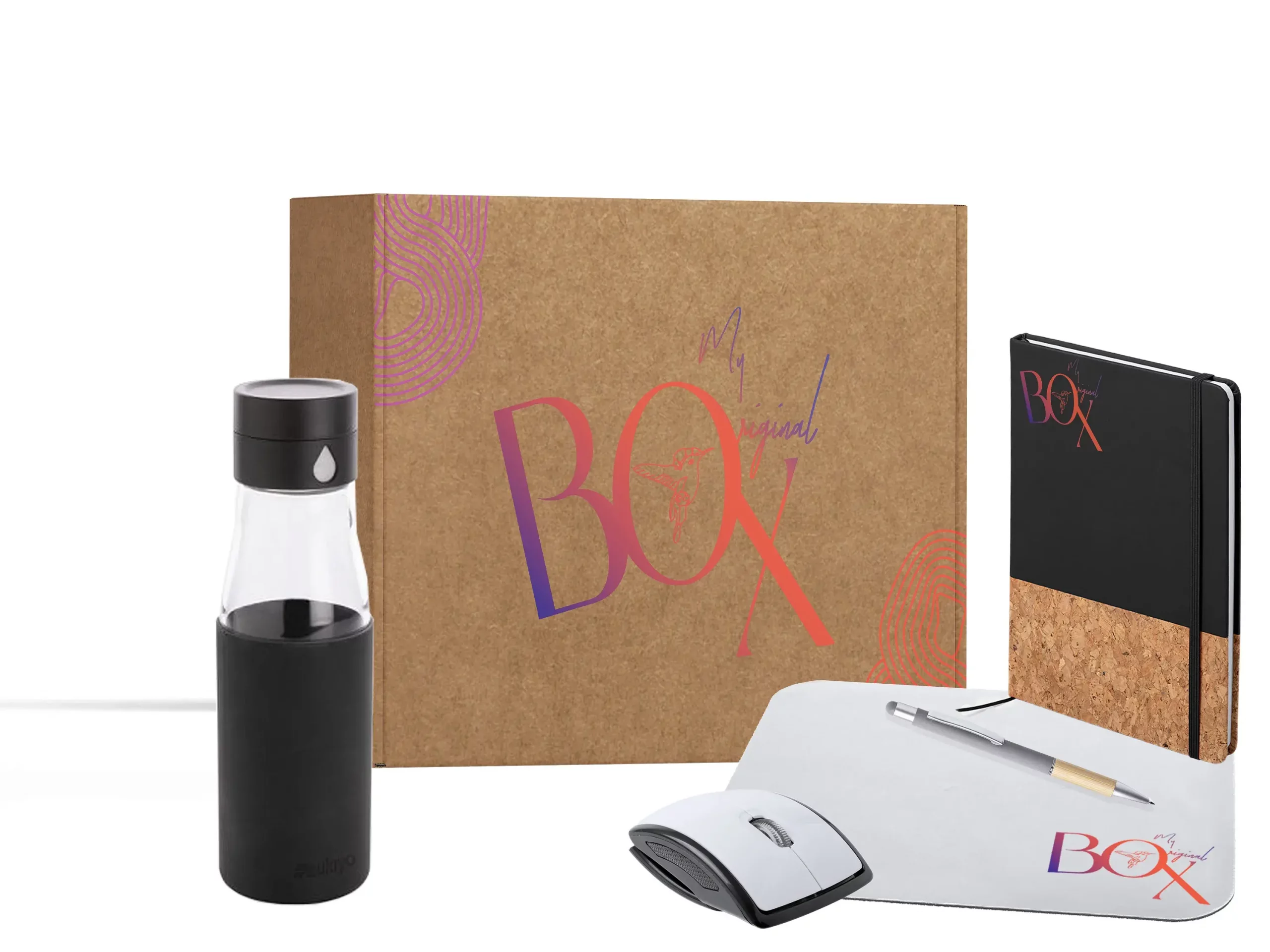 PRODUCT COMPOSITION MY ORIGINAL BOX - WORKING BOX #E1 COLLECTION
My Original Box has taken care to select for you natural and quality products for an organized office.
A touch-sensitive biros
Nature line ballpoint pen with push-button mechanism. Elegant design with matt aluminium barrel and bamboo grip, with matt accessories. Metal clip and transparent ring, with blue ink refill. Available in a wide range of colours.
Material: Aluminium/ Bamboo
An optical, wireless mouse
Wireless folding optical mouse. Ergonomic design and bright colours. Presented in an individual box. Battery power: 2xAAA not included.
Foldable, Wireless, Optical, 2 AAA Batteries Not Included
A mouse pad
Rectangular soft polyester mouse pad with non-slip silicone base. Bright colours.
Material: Polyester/ Silicone
A notebook
Nature line notepad in combination of natural cork with leather and hard covers. 100 flat sheets with natural finish, elastic binding and matching fabric page. Available in a variety of colours.
Hard Cover, 100 Sheets
Natural cork / Leatherette
A glass bottle with hydration meter
600ml borosilicate glass design water bottle. The cap displays a larger drop of water each time you fill your bottle and turn the cap so you can easily count the number of bottles you drink per day. The body of the bottle is dishwasher safe. Registered design.