"MY ORIGINAL GREEDY BOX #M18
A box exclusively for gourmets! Offer this corporate gift box to your employees, customers and partners.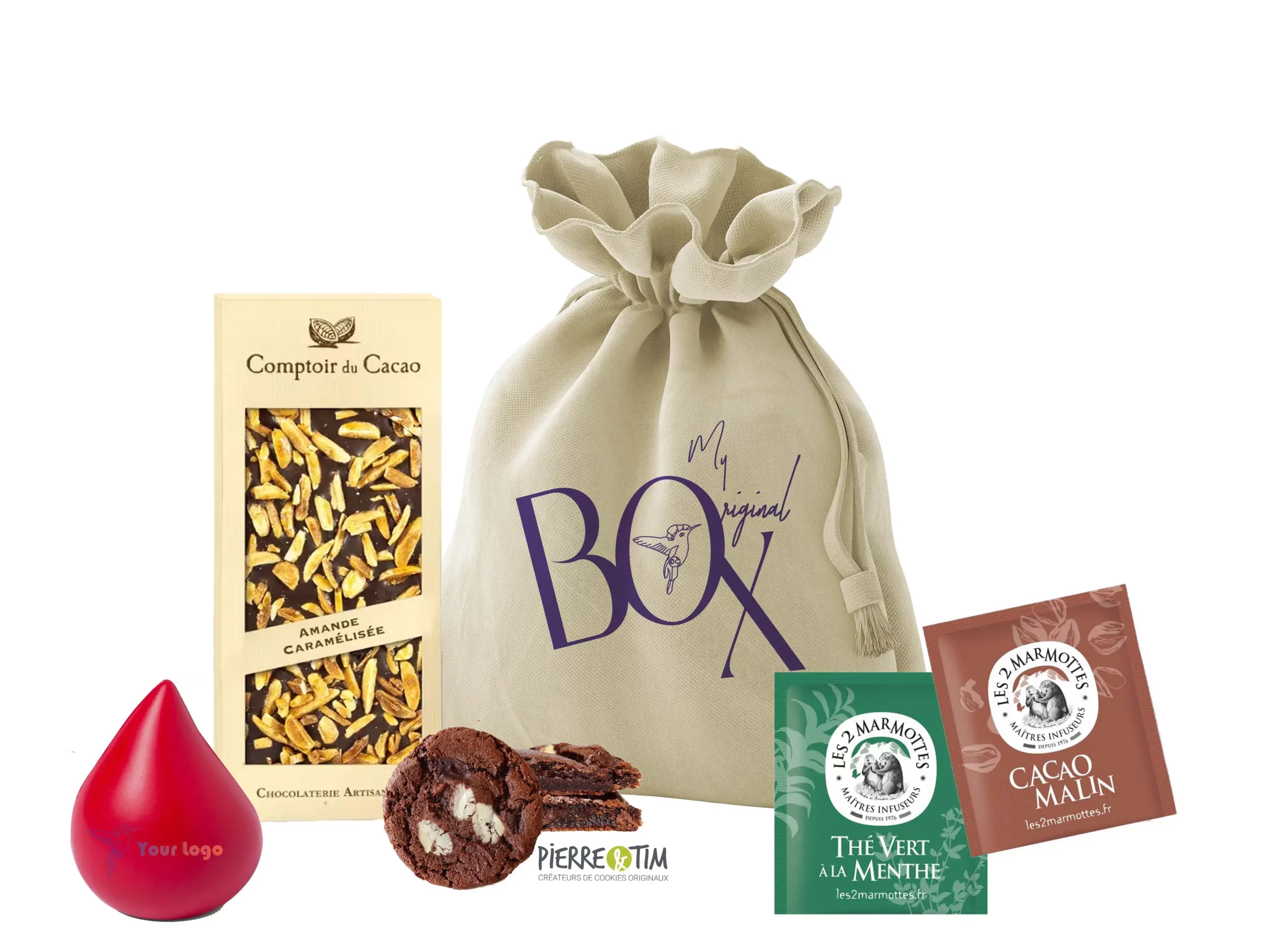 COMPOSITION OF THE BOX MY ORIGINAL GREEDY BOX #M18
My Original Box has taken care to select for you qualitative products in this surprising gift box :
- Sachet x6 Infusion Cacao Malin : Rooibos organic red tea - Les 2 Marmottes
Cocoa bark and rooibos for lively marmots. Our master infusers select and assemble more than 50 plants in our workshops in Bons-en-Chablais. In this 100% Organic infusion, it is the cocoa-rooibos duo that makes your taste buds tingle. A gourmet recipe with no added sugar for a guilt-free treat!
Ingredients: cocoa husk* 66%, rooibos* 15%, roasted chicory root*, liquorice*. EU/non-EU origin. *100% of ingredients from organic farming. FR-BIO-15. This product contains liquorice. People with high blood pressure should avoid excessive consumption.
100% plants: At Les 2 Marmottes, all our recipes are 100% plants, with no added flavours. And because we have flair, we go out every year to find the best plants so that they can express all their aromatic power in our herbal teas. Flair and no compromise on quality: that's what brings us together!
100% made in France: Like all our recipes, our Cacao Malin infusion has been imagined and concocted by our master infusers. Taste, appearance, colour. Nothing is left to chance. From the creation of our infusions to the dispatch of orders, everything happens from our den in Haute-Savoie.
Net weight: 60 g - Box of 30 bags
Recyclable bags, compostable tea bags (no glue, staples or string)
Infusion produced in France (Haute-Savoie - 74)
- Three Chocolate Bagged Cookie - Pierre & Tim
The must-have! The most delicious cookie in the range, the first cause of addiction at Pierre & Tim.
Net weight: 60 g
Ingredients: Wheat flour, blond vergeoise, soft butter, whole eggs, white chocolate (min 34%) 5% (sugar, cocoa butter, whole milk powder, skimmed milk powder, emulsifier soya lecithin), milk chocolate (min. 38.2%) 4% (sugar, cocoa butter, whole milk powder, cocoa mass, emulsifier: soya lecithin, natural vanilla flavouring, salt), dark chocolate (min. 55%) 4% (cocoa mass, sugar, cocoa butter, emulsifier: soya lecithin, natural vanilla flavouring), white sugar, cocoa powder, salt, raising agent, sodium bicarbonate. May contain traces of nuts.
Shelf life: 30 days
- Dark Caramelized Almond Bar 90g - Comptoir du Cacao
Our 72% dark chocolate has a strong roasted cocoa taste with an intense bitterness. The cocoa beans of the Forastero variety come mainly from West Africa. This gourmet bar also contains caramelised almonds (12% minimum).
Cruelty Free & Made in France
Dimensions: 8cm (W) x 19 (L) x 1.2 (H)
Net weight: 90g
Ingredients: Dark chocolates pure cocoa butter (minimum cocoa content 72%). Cocoa mass, sugar, cocoa butter, almond.
Shelf life: 12 months
- Customisable Anti-Stress Dropper
Brightly coloured, soft-bodied anti-stress droplet with glossy PU padding.
- Nature line bag made of resistant material 100% recycled cotton GRS of 130g/m2.
GRS (Global Recycled Standard) certification, which guarantees the recycled origin of the material used to manufacture the product. Cotton cord closure and sewn finish. 100% Recycled Cotton 120 g/m2