MY ORIGINAL GREEDY BOX #M20
A box exclusively for gourmets! Offer this corporate gift box to your employees, customers and partners.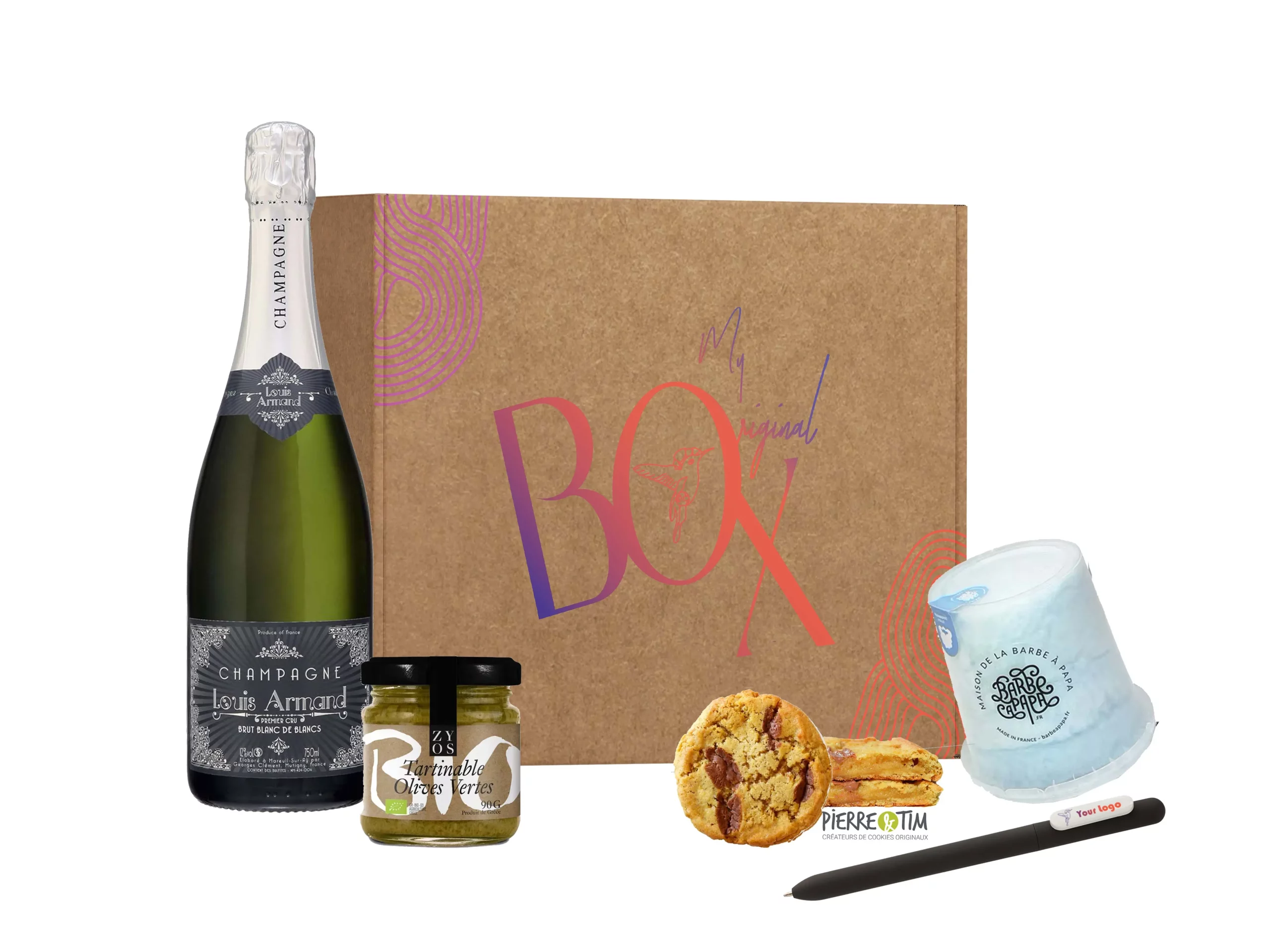 COMPOSITION OF THE BOX MY ORIGINAL GREEDY BOX #M19
My Original Box has taken care to select for you qualitative products in this surprising gift box :
- Bottle of Champagne Louis Armand, Blanc de Blancs - Premier cru
A pure and delicious white wine: the chardonnay reveals all its subtlety, its freshness and the precision of its aromas, its charming nose completed by a lively mouth, forming a delicate and subtle whole.
Elaboration: Manual harvest, Fermentation in thermo-regulated stainless steel tanks, Aging in thermo-regulated stainless steel tanks
Grape varieties: 100% Chardonnay
- Raspberry Cotton Candy - Maison de la Barbe à Papa
La Maison re-enchants our childhood memories with a recipe full of surprise that colours the tongue blue 💙 We make our strawberry candyfloss in France with unrefined beet sugar from the plantations of French producers. Our ingredients are carefully selected & assembled in our House, in secret in Paris. This is the best way to guarantee you a silky & tasty experience at the first touch of your tongue!
40g jar of Raspberry Cotton Candy that gives you a blue tongue. This format, equivalent to 2 cotton candies, will make you fall back in childhood during a regressive break. 100% Made In France, 100% regressive, 100% artisanal. Ready to enjoy. To be consumed quickly after opening.
Ingredients: sugar, artificial flavour, colouring : E131.
Handmade in our workshop, in secret in Paris.
The workshop can use: peanuts, nuts, milk, egg, soya, sesame, gluten.
Dimensions: Ø 118mm x H 112mm
Net weight: 40g
Capacity: 700ml
Shelf life: 6 months
- Green Olive Spread 90g - ZYOS
Prepared from Chalkidiki olives, the green olive spread is simply the flesh of the raw olive. You will appreciate its freshness in the mouth. An ideal spread for your white fish, poultry and goat cheese.
Dimensions: 7,00cm (H) x 6,00cm (W)
Net weight: 0,09 Kg
Ingredients: Organic green olives.
Best before date: 28 months
- Caramel and salted butter bagged cookie - Pierre & Tim
Normandy in the spotlight! A very tasty cookie containing pieces of Isigny-sur-Mer caramel, the real and unique one!
Net weight: 60 g
Ingredients: Wheat flour, organic brown sugar, soft butter, whole eggs, caramel chips with salted butter and Guérande flower of salt 8% (sugar, glucose syrup, fresh cream from Normandy, semi-salted butter (4.1%), skimmed milk powder, Guérande flower of salt (1.6%)), caramel milk chocolate (min 31.7%) 4% (sugar, cocoa butter, whole milk powder, cocoa mass, skimmed milk powder, caramelised sugar, emulsifier : soya lecithin, flavouring, spices, natural vanilla flavouring), vergeoise blonde, white sugar, salt, raising agent, sodium bicarbonate. May contain traces of nuts.
Shelf life: 30 days
- SDI01R Soft Touch customizable pen
The SDI01R pen seems to be a completely innovative pen on the market. What's unique about it?
The unique and innovative part of this pen is the "open/close" mechanism. Slide the clip along the barrel and you will hear a click to turn it on/off.
This is a unique plastic pen that has a sliding clip along the barrel to open/close it and feels great in your hands thanks to its smooth design.
Plastic pen with soft-touch coating and glossy white clip.
Stylus mechanism: push button.
The body of the pen can be removed, the shaft is easy to replace.
Biros with blue ink.