CORPORATE GIFT BOX MY ORIGINAL BOX - TRAVEL BOX #K1 COLLECTION
The box gift bag to take everywhere with you and ideal for making a nice souvenir photo. Offer this travel photo box to your employees, customers and partners.
Composed of 2 products to live like a real reporter. You will find in a gift bag 100% recycled a Xiaomi mini portable printer and its quality photo paper to print your photos wherever you go.
1,2,3 photos!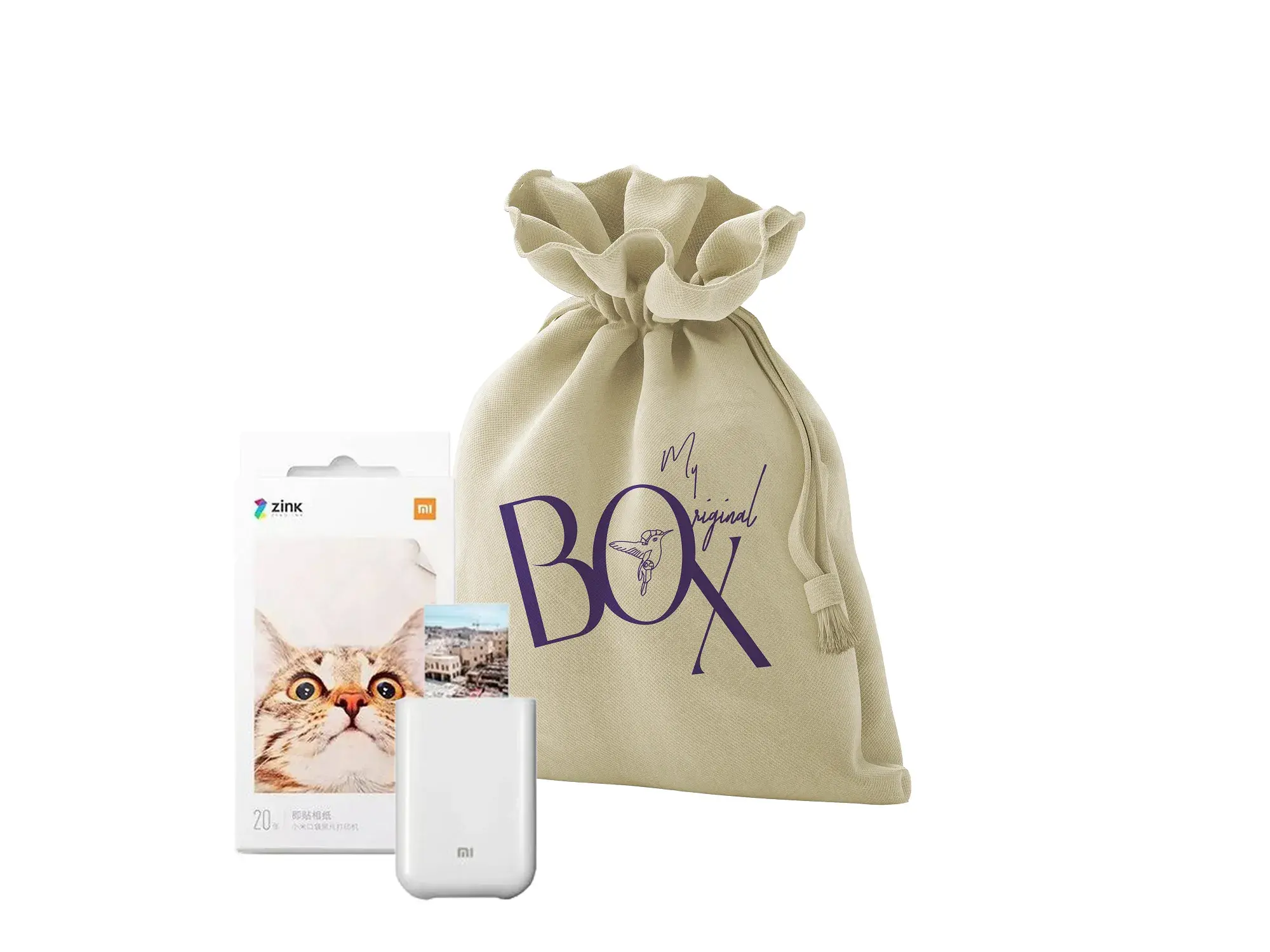 COMPOSITION OF THE PRODUCTS MY ORIGINAL BOX COLLECTION TRAVEL BOX
My Original Box has taken care to select high quality products for you:
XIAOMI Mini Photo Printer
The Xiaomi Mi portable photo printer allows you to have a pocket photo printer wherever and whenever you want. With the photo printer, you can print every photo from your smartphone via Bluetooth directly onto 7.5 centimetre long ZINK paper (5 pieces are supplied with the printer). This same type of paper is also used for Polaroids. The paper itself carries all the colours in the form of cyan-magenta-yellow and the printer then uses heat to print the colour image on the paper. With the Xiaomi Mi portable photo printer, you can preserve all your memories in a special way.
Photo paper for Xiaomi mini portable printer
With Xiaomi Mi Photo Printer Paper, print anything effortlessly, anywhere with the Xiaomi Photo Printer. The special Mijia high-density dye ribbon offers a wide range of colours, giving your photos a fresh and vibrant look. The whole process is extremely stable and reliable thanks to the liquid ink-free dye sublimation printing technology. In addition, it ensures that the photo does not fade over time but retains its vivid colours. The Xiaomi Mi Photo Printer Paper is self-adhesive, so you can immediately hang the photos in a photo book or on a wall. The pack includes 20 sheets of photo paper measuring 5×7.4 cm, or 3 inches. Print your photos wherever and whenever you want. Extremely colourful and clear photos. Long-lasting colour retention. Can be stuck anywhere thanks to the self-adhesive function. 20 sheets of 5×7.4 cm (3 inches)
Gift bag 100% recycled cotton