CORPORATE GIFT BOX MY ORIGINAL BOX -  ZEN BOX #D1 COLLECTION
The ultimate relaxation box. Offer this relaxing box to your employees, clients and partners.
Composed of 4 soothing products including a aromatic diffuser with multicolour lightingits organic lemon essential oilits relaxation mask by My Original Box and its Relaxing chamomile tea.
Relax!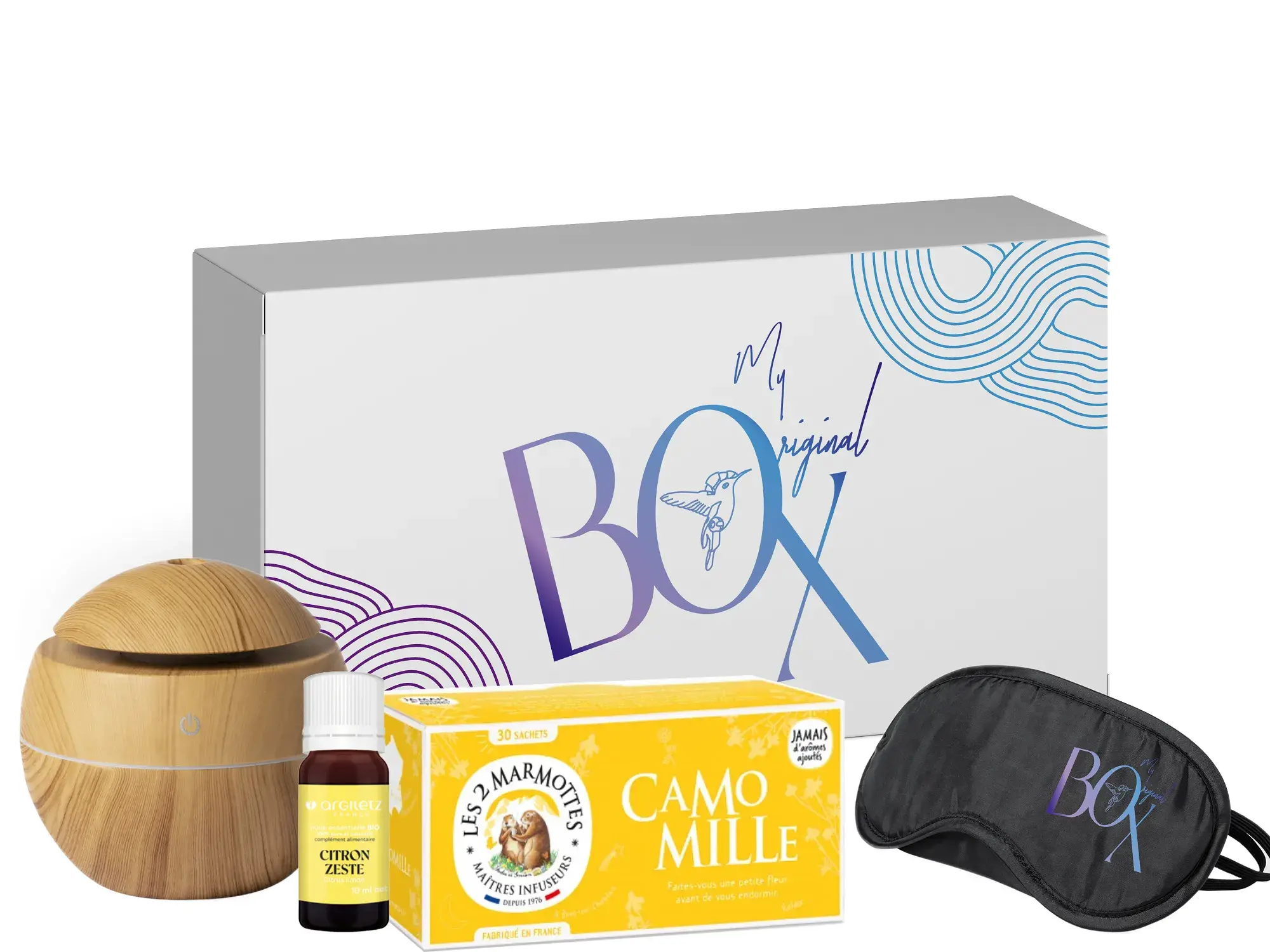 PRODUCT COMPOSITION MY ORIGINAL BOX - COCOONING BOX #D1 COLLECTION
My Original Box has taken care to select for you organic and wellness products:
An aromatic essential oil diffuser
Decorative humidifier with integrated aroma diffuser. LED light, 2 lighting positions and multi-coloured lighting. Offers continuous vaporisation, with a water deposit of 130 ml. For use in spaces up to 25m2, USB power cable included. Packaged in an environmentally friendly box.
LED lights, 130 ml, 1 Steam Mode, USB connection
A box of 30 bags of Chamomile Infusion - les 2 Marmottes
Make yourself a little flower before you go to sleep.
Ingredient : chamomile Matricaria recutita 100%. Origin France / Egypt. Chamomile helps to maintain a good sleep.
Organic lemon zest essential oil from Argiletz
Grown in the warmth of the Italian sun, the lemons that make up this essential oil are of unparalleled quality. Once the juice has been extracted, we press the fresh peel to obtain this pure and natural ORGANIC**, 100% essential oil.
We love it for: its detox and wellness aspect. Origin: Italy / Quality: 100% pure and natural / Certification: AB (organic farming). Harvesting method : Manual / Cultivation method : Certified non-GMO. Take a maximum of 3 drops per day diluted in a teaspoon of honey, vegetable oil or on sugar. 90mg/day.
My Original Box relaxation mask
Relaxation mask made of soft and comfortable microfibre. With double black elastic band.
Material: Microfibre. Also ideal for travel.